CHAMP10N
---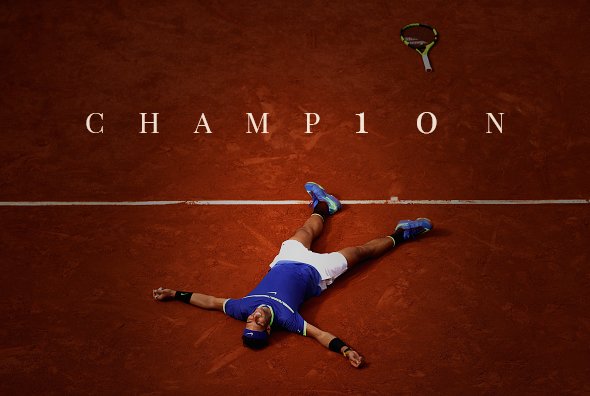 Behold, the 10 time champion, Rafael Nadal. With his victory here on the parisian clay, he surpasses Pete Sampras for second most number of Grand Slam titles won at 15, just 3 shy of Federer's record of 18. At Roland Garros, 31 year old Nadal is the oldest champion since 1968. The undisputed King of Clay, he is the only player in open era history to have won a Grand-Slam a record 10 times.
The collision course between former French Open Champ Stan Wawrinka and Nadal became a one-sided affair when Rafa ruthlessly dismantled his opponent's firing arsenal to win a stunning 6-2 6-3 6-1 victory over the 2016 US Open Champion. Rafa unleashed his trademark lasso forehand and created ball spins of dizzying heights that forced Wawrinka to have no match rhythm or strategy to counter. Wawrinka was left helpless as he could only applaud Rafa for his impeccable shot-making skills and vent his frustration by breaking his racquet during one of the crucial breaks in the 2nd set of the match. Not even a cold shower during the break between the 2nd and 3rd set could help the former Australian champ achieve what he did back in 2015 to deny Rafa his 2nd Australian open crown at that time. Rafa was virtually impossible to impede, forcing Stan left and right.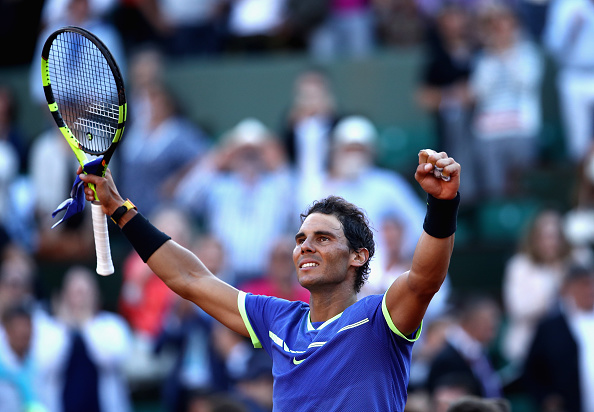 ---
"In 2005, i thought in 2017 I'd be fishing on my boat in Mollorca"
---
This was something Rafa said during his interview after his win. Who knew that after a 6-month injury layoff that he would re-emerge strong and hungry for more trophies. He did not even drop a set en route to his victory in Roland Garros, his scathing power and dominance is a testament to both his talent and his sheer will to shred any moment of doubt. That being said, neither did he encounter any tiebreaks in any of his 7 matches played here on his favourite parisian clay. He practically dominated the game and made it his own.
---
"What is talent? Talent is the capacity of work" – Uncle Toni Nadal, coach for Rafa since he was 4 years old.
---
That was what Uncle Toni said. Rafa's coach since he was 4, Uncle Toni has basically been his prominent right-hand man, playing an intricate role in defining Nadal's career. He was the one that told Nadal to improve on 3 simple things during his slump in 2016; to improve his serve, be confident in his forehand, and to acquire back that mental resilience that brought him so many titles . All of which was achieved and easily seen during the final match. The ambidextrous Rafa also engaged Carlos Moya, a former world number 1 Spanish player, to help improve his game as well, which was evident during the start of the 2017 season.
---
Nadal becomes the first player to qualify for the Nitto ATP World Tour Finals in London
---
Rafa's resurgence in 2017 first began when he reached the finals of Acapulco and Miami, as well as the Australian Final where he lost in an epic five set thriller to another resurgent player known as Roger Federer. 10th Monte Carlo Masters in April, 10th title in Barcelona the following week, fifth title in Madrid and the final in Rome (losing to rising star Dominic Thiem)
What lies ahead?
We can safely assume both Federer and Nadal are back to their old winning ways, with the grass-court season coming into full session this few months, we can only assume that these two senior players are still ever hungry for more silverware to collect and more records to break. I believe if Nadal remains injury free this year, he will definitely be a force to be reckon with on tour.